From Brennan: Have you ever had a "supernatural" experience or an experience you could not explain?
Dear Brennan,
Yet another phenomenal question from you. This is so good!
I can't say I have had a supernatural experience, but I think they could be real. Throughout my life, a few things have happened that I couldn't explain. To me, they didn't qualify as other-worldly experiences, but who knows? I'll tell you what they were and let you decide.
COINCIDENCE, UNSOLVED MYSTERY, OR MORE?
Your dad, Uncle Brian, Aunt Margie, Aunt Sarah, and I had a family friend, Mary Brady, who lived in the neighborhood and whom I once mentioned in a story to Willie. When I was probably around Maggie's age, I was sitting on the top of a playset we had in our backyard, thinking I wished Mary would come over to play. A few minutes later, someone in the family—I can't remember who—came out from the house and yelled to me that Mary Brady had come over to play with me.

In retrospect, I think that was just a coincidence. But at the time, I thought I had created magic somehow. I tried it again multiple times, willing Mary and other neighborhood friends to come over and play from the top of the playset. Alas, if I had created a miracle, there was just the one. After that, if I wanted someone to come over, I had to pick up the phone and call them.
When I was still around that age, I was once in the backyard, when I heard someone say something from the other side of the fence. I don't remember now what they said, but it was so clear, and somehow I knew there wasn't an actual person standing on the other side. I wasn't scared, but I did think it was something supernatural.
Since I never got any proof that this was a message from the spirit world, I stopped believing at some point that it was. But I can go right back to that moment in my mind and feel it so clearly, that certainty that I'd heard something and that there had not been a person there. Who knows what that is?
When I was in college, I had a plug-in radio that did not operate on batteries. The only way to play it was to plug it in. One afternoon, my roommate and I were in our dorm room. I unplugged the radio, and it kept playing. I turned to her and told her it was unplugged, and our eyes widened. I was so creeped out, I wanted to walk it outside to one of the big dumpsters outside our dorm, stuffing it all the way to the bottom. But that just conjured up images of it crawling out and getting itself back into our dorm room in the middle of the night. So I think I just turned the volume all the way down or something.
I wrote off the radio incident as a weird wiring issue, but my roommate occasionally told friends the story; she thought it was something more.
For Christmas in my senior year of college, Pops unexpectedly gave me his gold Toyota 4Runner, as I told Maggie in an earlier story. Here is a photo of me in front of the car, with the daughter of my friend Julie. We had taken it on a weekend camping trip.
When I received Pops's car, I was genuinely shocked: We weren't a family to receive cars as gifts, even if one family member was getting a new car and had an old one to spare, as was the case for Pops that year. I'd had a lifetime of training not to expect such a huge gift. Pops gave me the car for Christmas, with a card that read: "This is your combined Christmas and birthday present." I unwrapped the small box attached to the card, and the car key was inside it.
At that time in my life, I kept two journals: a regular one, to account for my days, and a dream journal, to record my nighttime dreams. Years later, I was reading over my dream journal, and I was shocked to find that just a few months before the Christmas when Pops gave me his car, I'd had a dream that he had given it to me … and in the dream, he broke the happy news by wrapping up the car key.
I still don't know what to make of that dream! I do believe in intuition; many times, I've wondered about someone I hadn't thought about in a long time, only to run into them a half hour or a day later. But the car gift was more like a premonition, and so accurate, in terms of the gift presentation. Who knows what that was about?
VISITS FROM DEPARTED ONES
In 2010, one of my best friends from high school died. Her name was Judy, and I wrote about her to Maggie in a previous story. She died eighteen years after we graduated from high school together.
Here are a few photos of Judy and me, the first taken in our high school years, and the next two during our college summers, when my friends and I were all back in Phoenix from our respective colleges.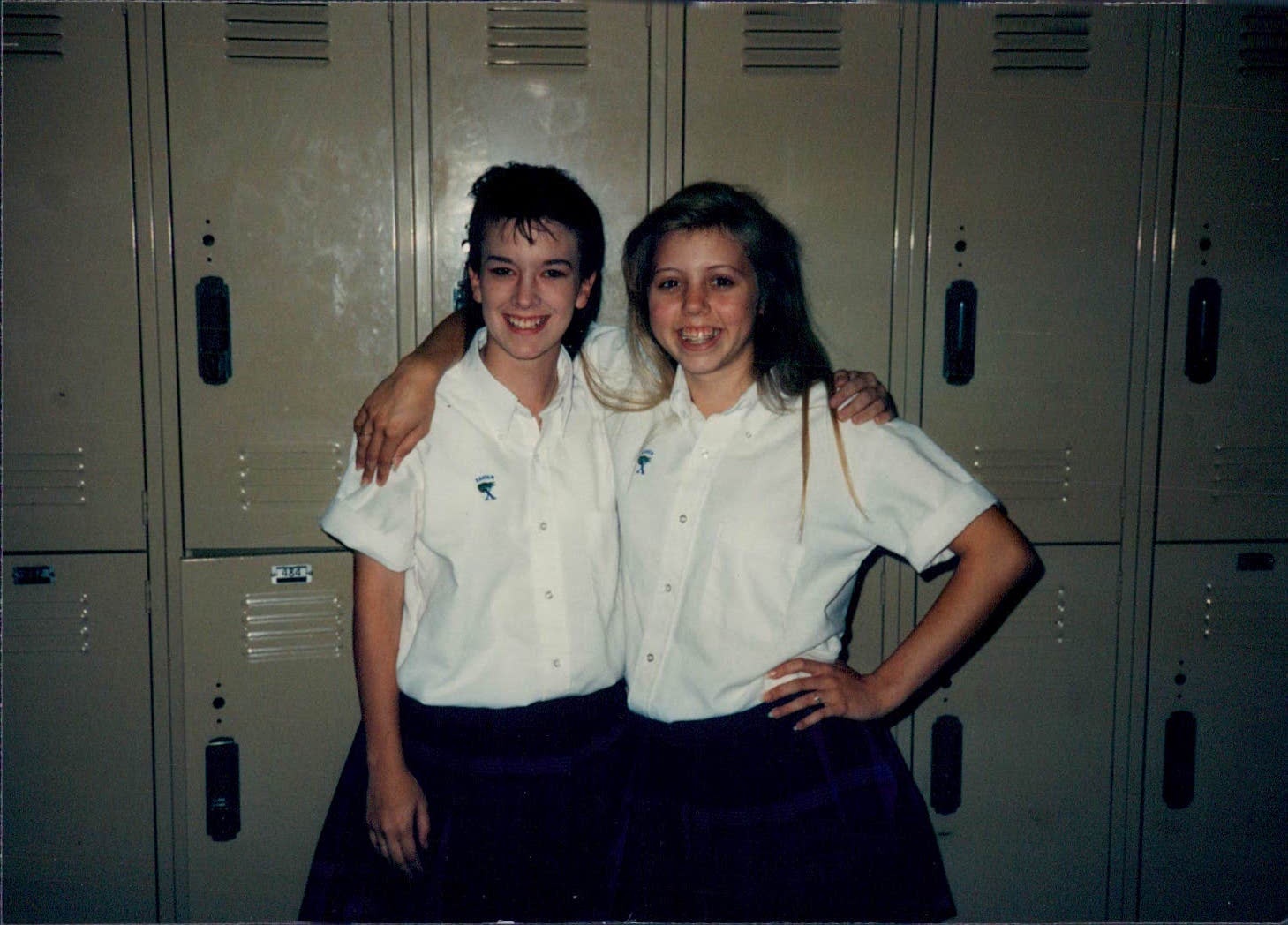 One night, a couple months after Judy had died, I dreamed that she and I were at a party together. In the dream, I knew Judy had died. At the party, she and I wandered from room to room, and I kept hoping she would tell me she was coming back to life. At the end of the dream, Judy told me she was not coming back to life, but that I shouldn't worry because she was fine.
I didn't count that as a supernatural experience because I wasn't awake when Judy visited me. But maybe I should think differently about it.
A few years ago, I was talking to my friend Heather about this topic, and she said that when she was about five years old, she was standing inside her house, when she saw a cousin of hers who had died. Heather said she could see her cousin clearly, and that her cousin was trying to say something to Heather that Heather could not hear. Even though I've never had so clear a supernatural, daytime visitor, I believe in what Heather saw.
SUPERNATURAL GAMES
When I was growing up, my friends and I played supernatural games at every sleepover and sleepaway camp. As sure and as night would fall, someone would suggest we play Light As a Feather, Stiff As a Board. You must know that one.
In case you don't, I will tell you how it works: one person lies on the floor on her back, arms down at her sides, and eyes closed. Everyone else gathers around her, everyone sitting at a different spot near her body. They chant together, "Light as a feather, stiff as a board. Light as a feather, stiff as a board. Light as a feather, stiff as a board!" When the game leader nods to the others, that's the cue for everyone to lift up their friend, who is supposed to soar, with her feather-light, stiff form.
I always felt like I was lifting a ton of bricks rolling around inside a pillowcase; there was nothing graceful or easy about it. Invariably, upon our obvious failure, one person would say, "It only works if everyone believes in it. Who didn't believe?" I never told, but between you and me, I was to blame for various friends' failure to fly.
Another game we played was Bloody Mary. Have you done this one? Your friends light a candle in a bathroom, in front of the mirror. Then they shut you in there by yourself, and from outside the door, they chant, "Bloody Mary. Bloody Mary. Bloody Mary!" After a minute of this, you're supposed to see a vision of Mary—as in the mother of God—in your friend's bathroom mirror. After that minute of terror, the only thing I saw reflecting back at me was a sobbing Katie, but some of my friends swore it had worked for them.
THE SUPERNATURAL AND YOU
I must know what prompted you to ask this question, Brennan. Any persistent radios or mysterious, invisible speaking neighbors in your history? I probably won't sleep for a year after you tell me, but I want to know!
Love,
Aunt Katie